Introduction
In today's rapidly evolving business landscape, the need for strategic advisory services has never been more crucial. The complexities and uncertainties of the modern market demand insightful guidance to navigate challenges and seize opportunities effectively. It is within this context that Altamont Group emerges as a distinguished advisory and investment firm, poised to provide invaluable expertise to businesses seeking to thrive in the face of change. As we delve into this blog, our primary aim is to shed light on strategic insights that can shape and fortify business endeavours. Strategy Advisory offers meaningful, tailored, and personalised advice to enable organizational strategic decision making. In this blog, we will discuss what strategy advisory is, why it is needed and why Altamont Group is the ideal partner to offer strategy advisory.
Strategy Advisory
Strategy advisory offers meaningful, tailored, and personalized advice to enable organizational strategic decision. Within strategy advisory, advice is offered to organisations so that high-level decisions can be taken in an unbiased fashion, using deep industry knowledge to deliver the best results. Strategy advisory specialists advise their clients on key issues, leveraging industry knowledge and analytical rigor, to help them make informed decisions. Examples of strategy advisory projects include assessment of key when companies want to enter new regions or launch new products.
Strategic planning is also a key advisory service which can include long and short-term organizational strategies with key performance indicators, targets, and implementation plans. Strategy advisory aims to provide advice, guidance, and leadership support.
Importance of Strategy Advisory
Strategy advisory helps diverse businesses and organizations navigate the process of discovering who they are, where they want to go, how they will get there, and how to measure success. Strategy advisory is required is to help organizations plan for success through an objective and unbiased third- party lens that can help with decision-making. When decisions involve millions of dollars, a wrong move can topple the entire business. In the face of such uncertainty, strategy advisory provides research-driven and data-backed advice on the right step to take.
Strategy advisory is industry agnostic, cutting across private and public sector bodies on a wide range of issues so that organizations can plan for success across various aspects of their business. A few reasons strategy advisory is important:
Provides an unbiased and clear perspective
Contributes to new and creative ideas
Focuses on providing results
Looks at an organization's current processes and systems to identify areas for improvement to assist future growth
Seeks opportunities to differentiate an organization's business from its competitors to create more value
Creates strategies to protect an organization's current market share and/or help gain new market share
Sets measurable goals and creates strategic priorities for an organization's team
Many companies look for strategy advisory in order to improve their long-term prospects, particularly when the team is too busy with operations and implementation or doesn't have the internal expertise. 
Strategy advisory can facilitate the complete regeneration of a company while simultaneously enabling the company to remain fully functional throughout, as well as accelerating getting up to speed once the strategy process is complete. Besides short-term gains, strategy advisory can provide insight into the long-run direction of the company.
Finally, when internal and external problems remain after business leaders have exhausted all avenues, strategy advisory come into the picture. Strategy advisory delves deeper than overall operations and management go. Above all, it seeks out the specific gaps and challenges unique to a company and designs customized solutions to address them. Strategy advisory assist companies by stepping into complex situations and developing cogent, coherent plans of action to meet defined goals.
In strategy advisory, the objective is to offer meaningful, tailored, and personalized advice to enable organizational strategic decision making. The graphic below explains the steps in strategy advisory that can guide an organization in the process of determining a tactical roadmap.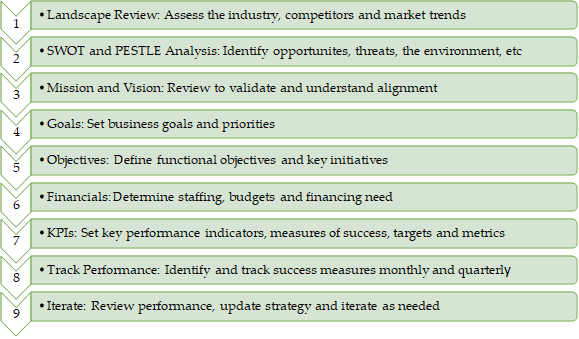 Why is Altamont Group the best strategy advisory partner?
Companies hire strategy advisory firms to gain a competitive edge, improve on stagnant areas, and produce solutions to specific problems where executives have no specialized expertise. Moreover, where more than one party participates in transitions or mergers, an advisory firm can also act as an independent party. Stepping into this scenario, strategy advisors meticulously balance considerations from both ends, sculpting the optimal strategy to span the divide – a realm where Altamont Group takes the spotlight.
Altamont Group is one of the most experienced advisory firms and has worked with leading organizations and government entities globally – across the emerging and emerged economies. Altamont Group has a reputation for being a trusted advisor to its clients and for maintaining the utmost discretion and confidentiality in undertakings with its clients. 
Altamont Group is also known for developing customized strategy solutions. Altamont Group is well aware that the one size fits all approach is NOT correct and certainly NOT what the client needs.
Instead, Altamont Group starts with a deep dive into the company's needs and goals; followed by research and fact finding. As a result, Altamont Group develops customized strategy solutions, that while drawing on global models, is always unique to meet specific client requirements.
In all their work, Altamont Group leverages global best practices within cultural contexts to optimize client results. Altamont Group focuses on robust research and data collection to deliver evidence-based findings. In fact, due to their deep expertise, critical global understanding, and customized approach, Altamont Group has been fortunate to support international and regional entities with various engagements including:
Human Capital Strategy for special economic zone
Capacity Development Strategy and Upskilling Implementation for government ministry
Advisory and strategic expertise to governments in preparation for the G20 meetings
Digital School Strategy for government and multi-lateral entities
Student Predictive Model Strategy for government entity
Human Capital Strategy and Upskilling Plan for UN entity
TVET Certification Strategy for government ministry
Learning and Development Strategy for UN entity
Financial Literacy Upskilling Strategy for Banks
Free Zone Planning with specific Education, Telecom, Manufacturing, Life Sciences, etc. zones for government entities
10-year National Reading Strategy for government
Consultants at Altamont Group are drawn from Ivy League and Top Tier institutions and have more than 45 years of experience within the strategy sector. Moreover, Altamont Group is committed to applying a gender lens internally on their policies as an organization and employer, in their CSR portfolio, and while collaborating with clients.
Conclusion
In the intricate dance of business, the role of strategy advisory emerges as a guiding beacon illuminating the path through uncertainties and complexities. The ability to objectively assess, carefully plan, and decisively execute can often make the difference between stagnation and growth. Herein lies the significance of strategic advisory services in today's dynamic landscape. As organizations embark on this transformative journey, the partnership they choose can shape their trajectory. This is where Altamont Group brings a wealth of experience. Our commitment to understanding the unique DNA of each organization, coupled with our expertise in crafting tailored strategies, positions us as the ideal partner to navigate the intricate maze of business challenges. By joining forces with Altamont Group, organizations and companies can harness the power of strategic advisory to not only bridge gaps but also to stride confidently into a future brimming with possibilities. At Altamont Group, our commitment extends beyond consultation, it's an effort to facilitate your journey towards prosperity and longevity.